Alex Deringer, co-owner with Courtney Cox of Ivy Lane Living in Alexandria, Virginia, believes a person's home should tell his or her individual story. Her 4,500-square-foot, three-level residence on a unique two-acre lot in the heart of the city does exactly that. The home was originally a farmhouse built in 1912. Deringer wanted a family-friendly environment—a place where every room is approachable and comfortable for children as well as adults. She created a casually elegant home through her use of family heirlooms, soft neutral colors, and a pleasant mix of furnishing styles and designs.
Alex Deringer uses neutral colors as a canvas, then layers her design with an interesting blend of antique, vintage, and classic pieces. The collection offers texture, pattern, subtle tones, and often a touch of the owner's history.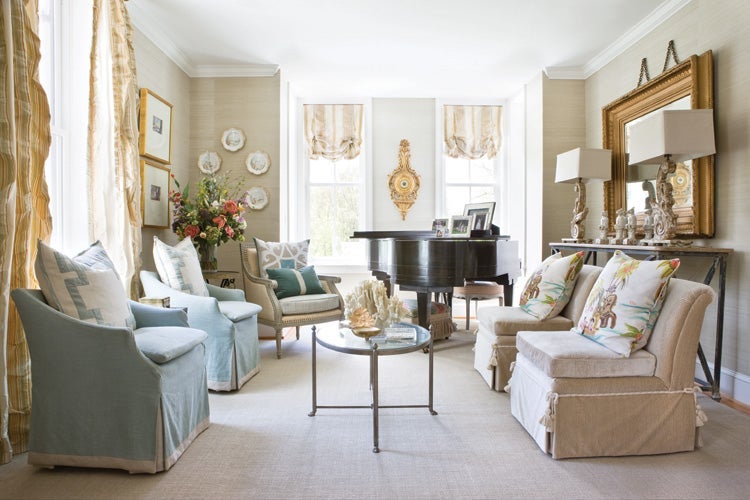 Many of the antique and vintage items in this design have been handed down within Deringer's family. This designer loves to incorporate family heirlooms with subtle classic design to create a home that is an extension of the owner—a story of past and present lives.
-
Farm Fresh
"We maintained the original footprint of the house and added an open floor plan in the rear that enables natural light into the space. The front portion of the house is more compartmentalized and has a more traditional feel than the addition," says Deringer. "Because of that, we kept the palette light in that space, permitting the front rooms to make the best use of the natural light they have." Random-width, mellow-toned hardwood floors unite the spaces. Deringer used Dove White by Benjamin Moore as the base color for some of the walls and the majority of the trim. She added varying degrees of a neutral tan with subtle blue accents to other parts of the living space.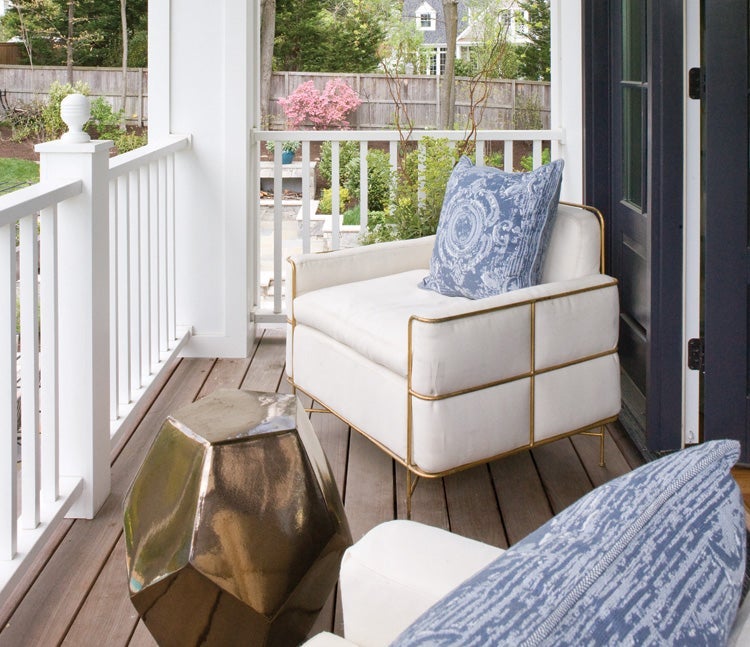 The foyer is simple with an inherited antique dresser as a focal point and a unique, antique chandelier. To the right of the foyer is an office and library for Deringer's husband and to the left is a formal parlor. The parlor holds an antique piano that belonged to her family, a vintage mirror, and a set of antique, hand-painted Limoges plates that were the first gift she ever received from her mother-in-law. "I feel that your home should be an evolution of who you are," she explains. "These pieces that were part of our families, and part of our growing up in many cases, help tell our guests who we are." The light grass cloth area rug and gentle-toned Schumacher grass cloth wall covering create a neutral canvas. Deringer mixed up the slipcover upholstery in the simple chairs using tones of beige and blue. They are Baker slipcover chairs with fabric by Osborne & Little. She then added accessories like the whimsical pillows in a fabric by Vervain. The iron and glass table, a design by Salvations Architectural Furnishings in Silver Spring, Maryland and a small outdoor metal accent table by David Iatesta further breaks up the style. "When things match too strongly, they die away from each other," explains Deringer. "They make a room look flat and artificial. I like to 'layer' different styles and elements in my designs."
WRITTEN BY CAROLYN M. RUNYON  PHOTOGRAPHY BY ANGIE SECKINGER