Friendly helpful attitude - Great media presentation tools - Patient and skilled negotiator
Tamara was very helpful in the successful sale of our investment property in a tough market. She markets the property very well with her media approach that highlighted the property's strengths. She also is a skilled negotiator and got us to a very acceptable price outcome. We will definitely use Tamara again!

---
Tamara was great at keeping me posted as to what was going on with the house sale. She was always very professional & congenial. I always looked forward to her communications.  It couldn't have been better. Tamara was very efficient & helpful with all the paperwork. I really appreciated all her helpful tips on how to prepare for a change of ownership.
---
Tamara is pleasant, obliging, honest, and very well versed in the housing market. Most of all TRUSTWORTHY.
A pleasure to deal with.

---
There are so many things I like about Tamara, but the thing I like most about Tamara is her gentle, yet confident style. She does not use pressure or push you when you are unsure. She does gather facts to help you understand the market making decisions easier. She somehow always makes herself available to answer questions or explain something further.  She is professional and through from the first meeting till well after the transaction is complete. When you work with Tamara, she makes you feel like you are her only client, tending to your concerns in a gentle, yet mater of fact way. She is well informed and does not use pressure, only the facts. Of course, the client has the final say, but I found her knowledge invaluable.  Whether you are buying or selling, I highly recommend Tamara.
---
Tamara's professionalism and forward thinking to how well she communicated to get the best interest in promoting the listing.  She went above and beyond my expectations. Tamara, may look young, but she has experience and turns every stone to promote the listed property, she continually communicates with this seller to keep you in the loop! I will use no other realtor but Tamara!
---
Tamara was so helpful because I purchased my condo over the internet from Victoria and as I am older and not to great with electronic she was so very patient with my lack of knowledge on signing the legal papers she patiently walked me through it all. She deserves a medal for that. Very helpful. 
---
We are very happy to deal with Tamara Nellissen. Very professional and fantastic!  Excellent expert advice and quick response to all of our questions.  She helped us get the best possible offer for our house.  She did an excellent job for us.  We also dealt with other realtors as well and Tamara was far superior - her expertise, knowledge and professionalism were clearly above. We will be happy to recommend Tamara Nellissen to anyone seeking a great real estate agent.
---
Tamara's knowledge and experience made for a positive experience. She truly cares about her clients, she does not pressure you into something that is not a right fit just to get a quick sale.  Tamara went above and beyond in the process of selling and buying. She marketed my house much better than the competition in my area and ensured that the new home I purchased fit my needs. She went above and beyond as at the last minute on moving day I ran into an issue of not being able to get my freezer out of my old home, she made some calls and rush arranged someone to pick it up and deliver it to my new home. I will recommend Tamara to all my friends and co-workers.
---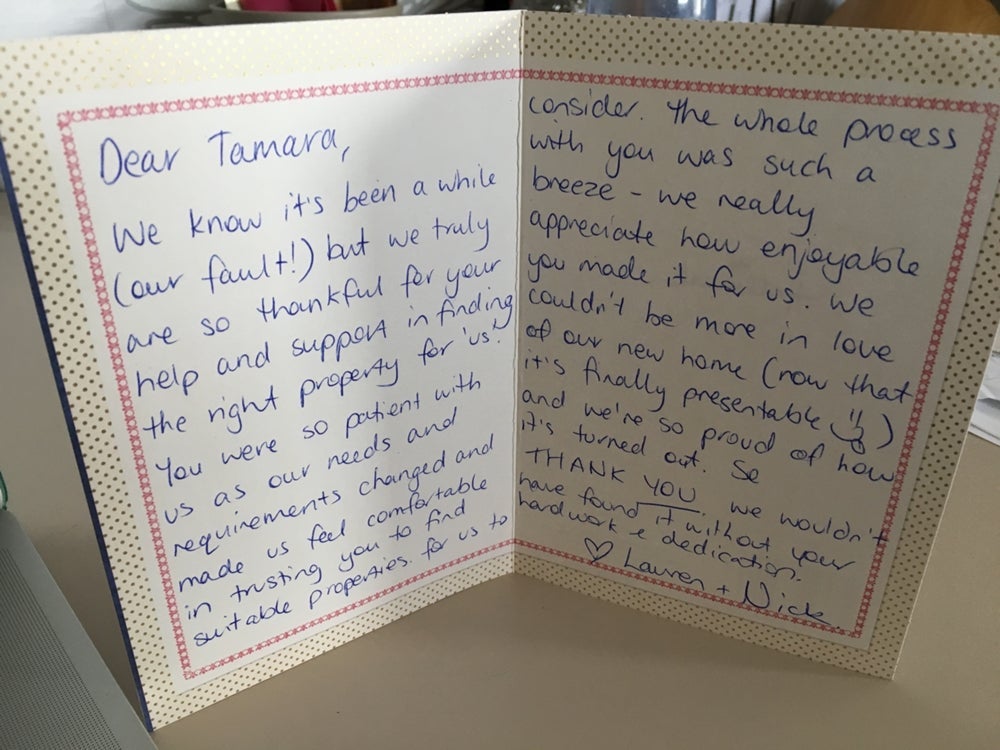 ---
Tamara has an excellent feel for what I was looking for, I did not get pushed towards something I wasn't interested in. She also manages everything to ensure no timelines are missed.  She handled all the paperwork, communications and required very little input, but she communicates frequently and kept me in the loop at all times.
-Grant
---
Tamara a ton of fun to work with, always outgoing and friendly with a good sense of humour.  She had everything available and set up perfectly.  We had been looking at houses for a long time and we felt like we were being total pains, but Tamara was always up to go look at houses with us and put up with our criticism of every house in detail until we found the one. Really appreciate her hard work and perseverance with helping us find our home.
---
Having recently failed in selling my home through another realtor someone suggested Tamara Nelliseen to me and I couldn't have been happier. She was extremely knowledgeable, attentive to my needs, highly professional and overall truly amazing. I was so impressed by Tamara that I recommended multiple friends and family to her before my home even sold!
-Brian


---
Tamara gave great advice, honest, everything she told us was perfect, and we sold our house very fast as a result. Negotiated very well on behalf of us. Tamara was an extremely knowledgeable realtor and gave us great advice. She didn't waste our time, only met with us in person when necessary. The advice she gave us and her help with staging the house proved to be excellent as the house sold very quickly even when the economy was on the downturn.
- Bogusia and Alex


---
Tamara was awesome to work with she got to know me and new what I was looking for. She also was a big help in selling my home. This was my first time selling/buy my home alone I could not have asked for anyone better in sharing this experience with me. She really got to know me and new what I was looking for. She was also very understanding. Overall she is a great person.
- Angie


---
She was very patient with me. We looked at everything from an apartment to a townhouse to a detected house. It took me over a year but finally found what I loved! Tamara was extremely helpful and professional. She always gave her honest opinion when asked anything. She is very patient. It took me over a year to find a house and she was there every step of the way. I would recommend her to anyone.
- Katelyn


---
Tamara is dedicated to getting the best price for your home. She also has very good advice on how to best prepare your home, and the quality of pictures taken is excellent. She did it all; even allowing showings after we received our initial offer! We were very happy with Tamara and would have no hesitation in recommending her to anyone looking for a realtor.
- Delinda and Brian
---
Loved at every stage, she was very thorough with the information given and managed our expectations to avoid (disappointment). Very pleasant and very thorough person. I will definitely always use Tamara for all my real estate needs. She was highly recommended and I definitely will recommend her highly to others. She's a tremendous realtor and person. Felt as if I was dealing with someone I've known for ages and could completely trust.
- Nita and Leonard
---
It was a pleasure having Tamara as our realtor and I couldn't imagine having a better home buying experience with anyone else! Tamara understood exactly what we were looking for and really cared about finding us the right home. It wasn't easy to find the perfect place for us, but Tamara went above and beyond all expectations to help us find our home. We really appreciate all the long hours she spent with us on our home search, and how organized, thorough, and helpful she was with everything. A few friends of mine have also recently purchased a home, and their realtor experiences do not even come close to ours with Tamara. We will definitely be dealing with Tamara for all our future real estate needs, and we would recommend her to anyone looking to buy a home!
- Andrew


---

I valued the support and consistent effort Tamara put forward to help me find my amazing and perfect new home! So friendly and helpful. She was always keeping me up to date on what was available and setting up viewings. She was an excellent go-between me and the builder as well as the lawyers when needed.


- Stacey
 

---

Tamara was extremely professional. She looked out for my best interest and needs, to a degree that well exceeded my expectations. Her customer service skills and abilities are phenomenal. I wouldn't change a thing. Tamara goes above and beyond. I have dealt with other Realtors in the past and have never felt as good about the experience as I have with her. My experience with CIR and Tamara specifically was extraordinary. She knew so much about the market, location and buying process that there were no surprises. Tamara kept me in the loop every step of the way. It was an amazing and successful experience. My experience was so good, I would highly recommend Tamara to anyone who needs a professional.


- Cindy


---

Tamara was always very professional and very organized. We really appreciated her taking the time to show us as many properties as it took until we found the right home. Her detail orientated approach to all of the paperwork gave us confidence that nothing was overlooked. Tamara was very patient and never pushed us towards an easy quick sale as we had previously experienced with another realtor. We could always rely on her honesty and professionalism. We really had a great experience both purchasing and selling our home with Tamara and can't think of anything we wish to change about the experience. Tamara Nellissen offered a refreshing experience for the purchase and sale of our home. Her professionalism and hard work paid off for us in finding the perfect home. She is knowledgeable and willing to go that extra mile for her clients.


- Urszula and Steve
 

---

Communication was made very easy, never had to wait on a call. My requests were handled, immediately. I was presented with all the information needed prior to viewings. Very easy going and fun. My experience couldn't have been better and I will be recommending Tamara to anyone who is in the market for a property. Nothing, couldn't have been better.
- Ash


---

Tamara was 100% the perfect realtor...professional approachable and always available to help us with any questions we had. There is no doubt in our mind that we will use her again and would recommend her to anyone selling or buying their home.
- Mandy and Dwaine


---

Tamara helped us find a home and her service was spectacular. She is a consummate professional who is very personable and friendly. We are first-time homeowners and she made the whole home buying experience enjoyable and stress-free by answering any questions we had, sharing her extensive knowledge of Real Estate with us, and being there for us every step of the way. It is clear that she loves what she does and truly enjoys satisfying her customers. We highly recommend her services to anyone looking to buy a home.
- Devin & Naomi


---

Tamara had fresh ideas and great outreach to the real estate market and community. Her cards pointing out interesting facts about the house were well received and kept people looking. I felt confident that she was courteous with all visitors and followed up with any inquiries. Tamara's quick organizational skills helped to move the sale along.
- Edie


---

As first time home buyers, we really didn't know what we were getting ourselves in to. Both the lawyer and the home inspector Tamara introduced us to were knowledgeable and understanding and above all, excited to be helping us with our first home purchase. In addition to being able to offer us the best rates, we couldn't have asked for better service. The whole team backing us truly made our experience fun and enjoyable. From the first time my spouse and I sat down to discuss our plans with Tamara, we already knew she had our best intentions in mind. We thought our ambitions of finding a house with everything we needed within a month and a half were unattainable. She assured us we could make it happen, and she was completely right. As soon as we gave her the word that we were ready to start looking, she had a whole weekend of house hunting planned within two days. Within two weeks we had viewed somewhere between 30 and 40 houses. She made it a priority that we get a really good idea of what was on the market so that we would feel confident in our final decision. The 3rd house we saw on day one is now what we call home, and we couldn't be happier. Her dedication to her work does not stop when she hands over the key to your new house; she wants to make sure the operation goes smoothly and that you are satisfied. We can't thank Tamara enough for being a phone call, a text or an email away, and answering any little question we had any time of day. Her patience and her tenacity are truly admirable, as is her kind heart. We would recommend her as a Realtor to anyone we know.
- Bonnie and Bryan