A SYDNEY SHOW GARDEN REVEALS NEW USES FOR COMMON OBJECTS AND DESIGN ICONS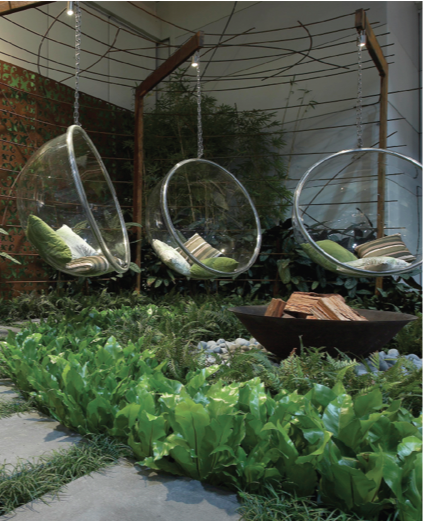 One long side of the space is lined with a punched screen made of weathering steel, an uncoated steel alloy that develops a rust-colored patina. A green wall behind the screen peeks through, and uplights accent the screen pattern and its shadows. The cooking area contains a grill, refrigerator, and sink to make outdoor food prep a breeze. Once the meal is done, the next focus is on dining.
 A raised platform stages the dining area, while a raised planter in the background delivers a lush, green burst of lady palm. The cantilevered table serves triple duty as an eating surface, a water feature, and a conversation piece. "It's an interesting thing to sit at the table and have water flowing underneath your plates and wine glasses and flow out the other side. It gets people involved. It gets all the elements moving around you," explains Herald.
 The sides of the table are bright steel. The glass top is etched with famous quotes, both serious and funny. "The point of that," he says, "is to remind you that life is serious but can also be laughed at." Steel box seats line the sides and are cushioned with a cool green fabric. Purple and green rhoeo sends up a spiky hedge at the foot of the dining area.
 Overhead, rusted rebar forms a curved ceiling that visually leads to the lounge area. Acrylic pod chairs framed in stainless steel hang in a semicircle around a rusted fire pit sitting above smooth river rocks. Slender bamboo weaves skyward through the rebar and Ctenanthe setosa 'Grey Star' offers a variegated backdrop visible through the clear hanging chairs. Pavers further outline the semicircle and add gray touches amid the green carpet of bird's nest and prickly rasp ferns.
 Though Herald loves the entire space, he's most fond of the lounge area. "I really enjoyed the hanging chairs around the fireplace and the ferns dancing around the edges," he says. "It became one of those spaces that draws you in. When you are in the presence of that space you can't help but walk in and sit in those chairs. You want to experience what it's like to sit hanging above those gardens with your feet getting warm by the fire."
That feeling of invitation goes back to the restraint Herald used when choosing the design elements. "Those green tones, the COR-TEN®, the steel, all those elements played their role to give you a bit of a hug in that space," says Herald. "You really felt very comfortable in it."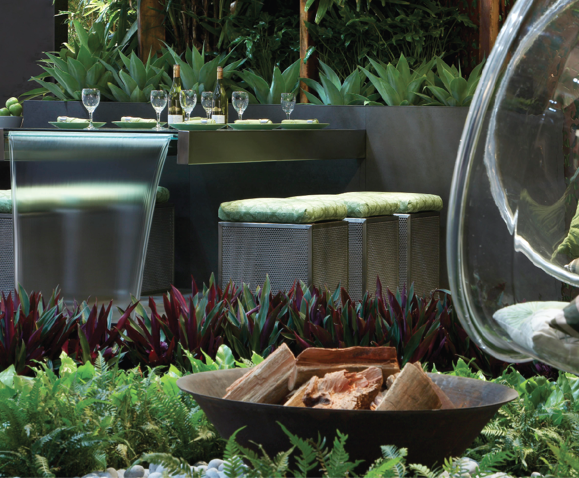 ABOVE: The transparency of the hanging chairs was a deliberate choice so that the metal structures and lush plants remained the star of the show. LEFT, CLOCKWISE FROM TOP: The dining area sits up like a stage. The barest touch of purple contrasts well with the patina of the metal screen. The dining table itself is a conversation starter.
WRITTEN BY RONDA SWANEY    PHOTOGRAPHY PROVIDED BY ROLLING STONE LANDSCAPES
Herald designed this garden with his typical (yet imaginary) client in mind. And having an imaginary client has its upside. You don't have to negotiate creative choices or convince anyone that the end result will be worth it. "You can take on the risk of using interesting and unique materials," says Herald. "You display all these things together and prove that it works." You are also not bound by a home's architecture or any architecture for that matter. These gardens are freestanding structures that come together in days. "Design shows are instant. A lot of planning goes into them, but you generally build them in five to ten days," says Herald. "In reality, when built correctly, these gardens might take three or four months to build for a client." 
 Despite the freedom of projects like this, Herald placed limits on himself to keep the design interesting and focused. He narrowed his color palette to shades of green, gray, and rust. "It's harder than most people imagine to be controlled with textures and tones. There were other plants and items that would have looked great in the design but they would have stretched the tone and color palette a bit further than I'd like," he says. "It took longer to select plants, furniture items, and other hardscape materials because I had to be quite strict on my selections. That was probably the biggest challenge."
 Herald says his clients usually require three functions from their outdoor living spaces: a place to cook, dine, and lounge. With those functions in mind, he set about creating "rooms" to accommodate them.