Interior designer Inson Wood's first memory of Thailand as a child was zooming down the klongs of Bangkok with his father to source the freshest fish and vegetables. His second most poignant memory was riding a work elephant that was dragging teak logs out of the forest to build his family's country summer home in Northern Thailand. These two distinct memories laid the foundation for his compositional and rigorous Duchampian methodology employed while working closely with Jean de Gomery and his Thai wife Primprow in designing their exotic riverside compound in Chiang Mai.
Jean is an attorney and Primprow is a Harvard-trained architect who has an office in Manhattan and works on high-end residential projects. She also runs a design firm for custom furniture and industrial design objects. Although the couple is based in the United States, Primprow still has family in Chiang Mai. So that is where they decided to build their charming Thailand getaway.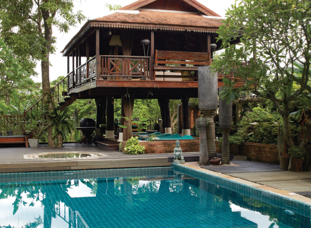 Over a period of ten years, the couple built the home without an architect, just using local builders. The beauty of the home, which is surrounded by smaller guest houses, is its penultimate serenity directly on the river with the house hidden off a sleepy farm road. "[But] it was time for an interior refresh," says Primprow. After meeting Wood at a cocktail party, the couple commissioned him to refresh the interior of their five-bedroom main home. The owners requested Wood create a bit more flow and unification of the overall composition and connect some slightly disparate elements. They also wanted Wood to emphasize the art and religious artifacts they had collected.
 "In certain ways, coming up with the overall composition was easy," says Wood, because it was based on a similar layout he had done with his family's own multidwelling compound that featured a series of guest houses and a main house surrounding a centralized pool. For the couple's main home, this was done by emphasizing the outdoor seating and dining areas, taking advantage of the classical layout of the buildings and the natural sunlight. A place for tea time was created in the elevated rice barn, which was converted into a clubhouse lounge to look out over the Ping River.
 While the layout of the home was relatively easy, it was a challenge to emphasize the exceptional antiques, specialized art, and heritage collectibles without appearing too museum like. The solution came, in part, from mixing various traditional contemporary European elements such as handblown glasses and plates from the South of France and nineteenth-century lamps and vases from England and France.
 One strategic play used in the organization of the interior design was the dialect between symmetry and slightly broken symmetry. Examples of this can be seen with grand gestures such as the massive elephant paintings that flank the foyer space as well as local arrangements of decorative objects such as sculptures, red lacquer serving vessels, and urns.
 With Thailand's long tradition of hand carving, it was impossible not to include some detailed carving in the wall panels. Wood even went as far as to emphasize the height of the main living space by keeping the open rafters but mounting a large, hand-carved panel directly to the ceiling for drama and to create a sense of hierarchy.
 A formal indoor dining room is meant to host large family dinners for the holidays and guests. Informal art from Europe adorns the walls, and light, airy, sheer panels from Christopher Hyland dress up the windows. An antique Tabriz rug warms the floor, and a combination of Shinawatra 5 ply vintage silk with a simple cotton linen covers the table.
The eat-in kitchen was modified into a modern, open-concept, European-style kitchen instead of a classic Thai one. Views from the kitchen and dining rooms were designed specifically to capture the lush garden, which includes many exotic plants and flowers such as orchids and Birds of Paradise.
 The upper level has a series of traditional Thai instruments displayed along with an antique temple gong. In keeping with traditional Thai construction, all floors, walls, and ceilings are made of solid, wide, hand-scraped teak wood planks. The master bedroom interior was styled after the Jim Thompson house, with high ceilings and a draped four-poster bed with a canopy and a heavy shear that doubles as a mosquito net. A pair of lamps inspired by the Qing dynasty stand out in the room.
"The close collaboration with Jean and Primprow was key to the interior process, as they had their own ideas for art and design," says Wood. "At certain points I was simply a medium to assist them [with] organizing their own creative ideas." Sometimes a designer needs to step back and just work with the client's vision to help them to bring it into focus.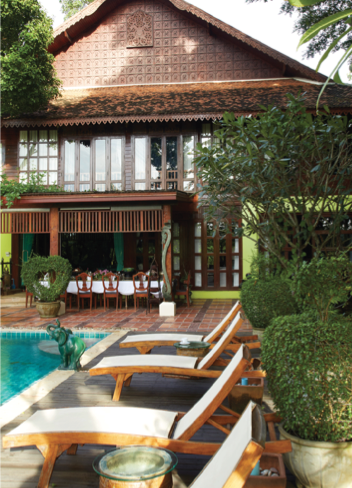 Source: Homes by Design