Recipes and photographs by: Karista Bennett
Set out the red-and-white checked linens, light some tapered candles, and get ready for a feast, because we're serving dinner Italian style. Italian food—a diverse cuisine that is rich with history and festive in flavors—always feels like a celebration. Communal and inviting, Italian cuisine has a way of bringing everyone to the table.  
I love a crunchy salad, and this one is loaded with crunch. I use a mixture of romaine and radicchio as the base of the salad, and then I add flavorful ingredients such as Italian salami, pepperoncini
peppers, Kalamata olives, and mozzarella or smoked provolone. It's like antipasti in a bowl!  
Serves 4 to 6
¾ cup extra-virgin olive oil
¼ cup good quality balsamic vinegar
2 tablespoons honey
Salt and pepper to taste
2 romaine hearts, chopped
1 head radicchio, chopped
6 to 8 ounces Italian dry salami, chopped 
   or sliced
8 ounces whole-milk mozzarella, diced or 
  bite-sized mozzarella balls called 
  Ciliegine (you can also use 8 ounces 
  smoked provolone, diced)
½ cup pepperoncini peppers, stemmed
  and chopped
½ to ¾ cup seedless Kalamata olives, halved
½ to 1 pint cherry tomatoes, halved
½ cup diced or thinly sliced red onion
½ cup fresh basil leaves, torn or 
  sliced chiffonade
½ cup diced cucumber (optional)
½ cup diced marinated artichokes (optional)
Whisk together the extra-virgin olive oil, balsamic vinegar, and honey to create a vinaigrette. Season to taste with salt and pepper. Set aside.
In a large mixing bowl, gently toss together all the remaining ingredients. Just before serving,
dress the salad with half the vinaigrette, using more if needed. Lastly, season with a pinch of salt and freshly cracked black pepper.
Serve immediately.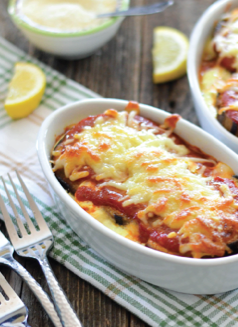 PARMESAN
This is probably one of the most quintessential Italian dishes. Lush and rich in flavor as well as texture, Eggplant Parmesan can stand on its own or be served as a lovely side dish.   
Serves 4 to 6
1 to 2 large eggplants, peeled and sliced
  lengthwise or into ¼-inch thick rounds
Sea or Kosher salt
½ cup all-purpose flour
1 cup extra-virgin olive oil
Salt and pepper
3 cups of your favorite tomato sauce
2 cups whole-milk mozzarella, shredded 
  or sliced
1 cup Romano cheese, shredded
Eggplant Parmesan_.tif
Orange Ricotta Cake with Whipped Sweet Mascarapone 6_.tif
Cover with foil and bake for about 15 to 20 minutes. Remove the foil and bake for another 10 minutes.  
Remove the eggplant from the oven and let it rest for about 10 minutes before serving. Slice into squares and top with additional sauce and the Parmesan cheese.
ORANGE RICOTTA CAKE WITH WHIPPED SWEET MASCARPONE
Italian desserts aren't terribly sweet in flavor, which makes them just as lovely to serve for breakfast as for dessert. This fragrant cake is dense like a cheesecake but lighter in texture, and it pairs perfectly with the sweet whipped mascarpone.  
Serves 8
2 cups all-purpose flour, plus more for dusting
1 tablespoon baking powder
Pinch salt
4 eggs
½ cup dark-brown sugar, packed and heaping
2 cups whole-milk ricotta
¼ cup extra-virgin olive oil
2 large oranges, zested
½ teaspoon orange extract
¾ cup whole milk
1 (8-ounce) container of mascarpone cheese
¼ to ⅓ cup heavy whipping cream
⅓ cup powdered sugar
1 teaspoon vanilla extract
Preheat the oven to 350 degrees F.
Butter and flour a 9-inch spring form pan. Shake out the excess flour and set aside.
Mix together the flour, baking powder, and salt. Set aside.
In an electric mixer, whisk the eggs and brown sugar until light and creamy. Then whisk in the ricotta cheese, oil, orange zest, orange extract, and milk until blended.
½ cup fresh basil leaves, chopped
½ cup grated Parmesan, for garnish
Preheat the oven to 350 degrees F.
Salt the eggplant slices and let them sit in a colander in a large bowl for about 20 to 30 minutes to drain the excess liquid from the eggplant. Rinse the eggplant slices and pat dry with a paper towel. 
Dust the eggplant slices with the flour, shaking off the extra flour. Using a large skillet or frying pan, heat the extra-virgin olive oil over medium-high heat.  
Once the oil is hot, but not smoking, panfry the eggplant slices just until golden brown. Place the eggplant slices on a paper towel–lined cookie sheet to absorb the excess oil. Sprinkle with a little salt and pepper.
Once the eggplant slices have been browned, place ¼ cup of tomato sauce into the bottom of an 8-inch-by-8-inch baking dish, or if using 2 eggplants, a 10-inch-by-15-inch-by-2-inch
rectangular baking dish. You can also prepare this recipe in individual ramekins.
Layer slices of eggplant over the tomato sauce and then top with a little more sauce and a layer of mozzarella and Romano and a little chopped fresh basil. Continue layering the eggplant, sauce, cheese, and basil. I usually end up with 3 to 4 layers.  
Next, mix in the flour and baking powder mixture until thoroughly incorporated. Pour the cake batter into the prepared pan and bake for about 50 to 55 minutes or until the top of the cake is golden brown and firm to the touch.  
Let the cake cool for about 5 to 10 minutes, then turn it onto a cake plate.
While the cake is baking, whisk together the mascarpone, heavy cream, powdered sugar, and vanilla extract until light and fluffy.  
When the cake has cooled completely, spread the sweet mascarpone on top of the cake and serve. Garnish with additional powdered sugar if desired. This cake can be stored in the refrigerator for up to five days.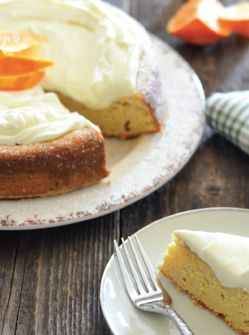 Source Homes by Design