Make Your Guest Quarters Rival a Luxurious Boutique Hotel
Sometimes getting away is just that: getting away from work, the kids, and house chores by booking a trip to a resort where the number one item on your to-do list is relax. But as spring break nears and you travel to visit friends and family, oftentimes the accommodations (read: a blow-up mattress on the living room floor) aren't so relaxing.
While your friends and family may not be in the know, you have an advantage in creating a guest suite sanctuary that rivals any posh boutique hotel so that your guests have the most enjoyable and comfortable stay while in your home. "There are so many small but meaningful things you can add to your guest room to make it inviting and like a home away from home," says interior design expert Ronique Gibson from InStyleModern.com, a top source for trendy, chic, and affordable contemporary furniture. "Special touches also make your guest feel special and welcomed." Here are six ways to make the most inviting guest room.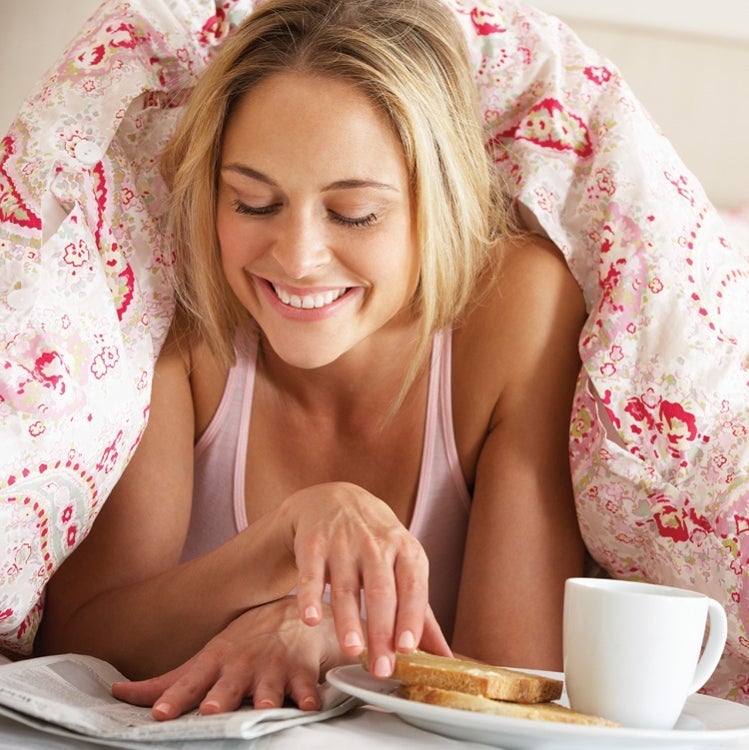 QUALITY MATTERS
It doesn't take much to make a room feel luxurious and relaxing and it starts with the quality of materials you add to your space. "Guests will feel like they are in a five-star hotel with a few simple luxuries," says national etiquette expert and owner of The Protocol School of Texas, Diane Gottsman. "Invest in the best mattress you can afford, and add soft, solid-colored sheets, a warm blanket, and pretty duvet. Plush toilet paper and tissues for the bathroom and bedside table are sure to be appreciated, as well." Don't forget the toiletries either. "Set out amenities such as a toothbrush and sample sizes of toiletries in a decorative bin. Makeup remover pads, disposable razors, and shaving cream are items guests often forget."
KEEP IT FRESH
It may seem like a no-brainer, but a clean guest room is the best kind of room; however, because it's one of the least used spaces in your home, the guest room oftentimes gets pushed off on your cleaning to-do list. Besides the all-important dusting and vacuuming, "fill a basket with laundered blankets and pillows, and provide a clean wastebasket," suggests Gottsman. "Nothing is more inviting than crisp and clean bed linens and towels. Curtains ironed with lavender or orange blossom water add a touch of luxury."
Guest Room
Photography provided by ©iStockphoto.com/monkeybusinessimages.
GO LOCAL AND PERSONAL
Hotels and resorts always have local magazines on hand for their guests and you should, too, says designer Charlotte Lucas. "I always keep The Scout Guide and other local magazines in the guest room for guests to keep during the day if they are exploring the city," she says. "I also love putting a coffee-table book up in the guest room that I know my guest will be interested in. I was a guest at a friend's house this fall and they just got a new interior design book, so she left it on my bed to read that night! I loved the thought, and loved reading it in bed."
MAKE IT SMELL GOOD
Scent is one of the most powerful senses, so make sure your guests' resting place is one that, well, smells good. "Do a sniff test of the closet, drawers, towels, and blankets, ensuring that they are not musty or mildewed," advises Gottsman. "Place scented sachets in strategic locations to ensure a pleasant fragrance. Cinnamon and vanilla are particularly festive."
PROVIDE SNACKS
"Take a cue from nice hotels and place a small coffee pot or electric tea kettle in the room so your guests can help themselves to a cup of coffee or tea when they wake up," suggests Gibson. Also, "tuck a few snacks in a side-table drawer. Small packs of trail mix, granola bars, or even sweets are a nice touch for your guests. Put a bowl of fresh fruit like apples or bananas on the dresser too. If they get the munchies or if they are hungry before bedtime, they will have something they can easily grab without having to ask you or make noise in the kitchen."
PROVIDE A TURNDOWN SERVICE
Those thoughtful chocolates on your guests' pillows go a long way. But take it one step further. "If you know your guest's taste, chilling their favorite wine ready to enjoy will make them feel especially welcome," says Gottsman. "A night tray with biscuits and hot cocoa or a daily tray of afternoon tea and scones will wow anyone. Place a special trinket on their pillow such as a vintage greeting card or pretty ornament. It's all in the details."
WRITTEN BY BLAKE MILLER