A Chicago Living Room Is Designed to Capture Views and Comfort
WRITTEN BY RONDA SWANEY PHOTOGRAPHY BY TONY SOLURI PHOTOGRAPHY
When Thomas Riker, principal of Chicago-based design firm James Thomas Interiors, first came to this local project, it was a penthouse condo that was last updated in the '90s. As the project began and an adjacent unit became available, plans shifted dramatically. When the owners, a couple, purchased the neighboring unit, the entire space had to be reimagined.
Although the project required demolition and figuring out how to connect and use the added space, Riker kept the living room right where it was; with such an impressive city view, it would have been crazy to move it.
Riker says he and partner James Dolenc try to get to know each client before they start a project. "As much as we may have a vision for space, we really want to hear what the client's vision is," says Riker. "How do they want to live in and use the space? We always ask new clients to show us images of interiors and other things that appeal to them, like fashion or travel images. That gives us a sense of who they are and what their aesthetic might be."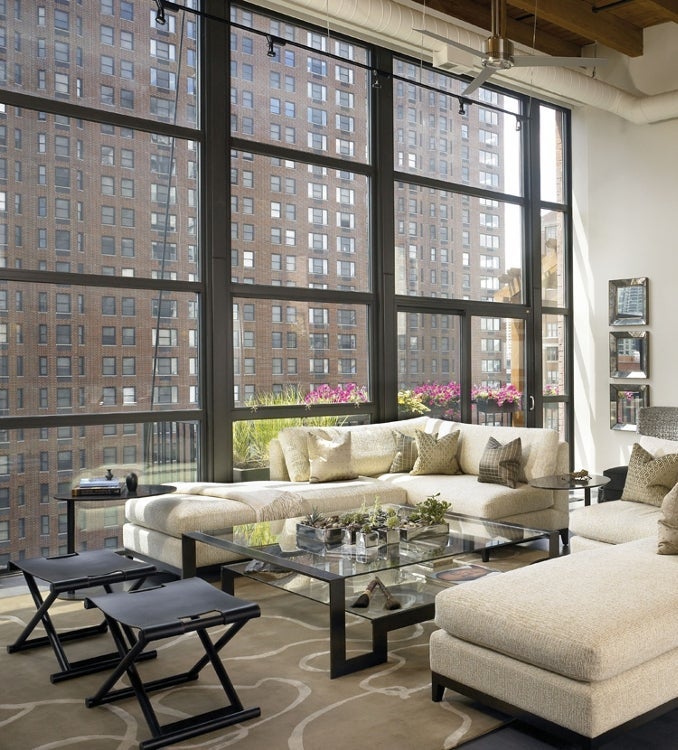 As they got to know these homeowners, Riker and Dolenc realized they were casual and unstuffy. Though sizable by Chicago condo standards, the living room still had to serve triple duty as a TV room, family room, and main gathering place. Despite serving so many functions, the couple wanted the living room to be relaxing and comfortable above all.
Comfort was the main objective, but the view also impacted the design. "You see lots of different textures and colors out those windows. It's quite spectacular." As Riker says, "With that view, it was important that the furnishings were a little quieter without lots of colors and patterns or things to distract."
With that goal in mind, the room palette is neutral, composed of cream, gray, black, and beige tones. Opposing sectional chaises—each six by nine feet and three feet deep—face each other. The pieces are large and comfy enough to seat many guests at once. The rear of each chaise is visible, so piping detail on the backs makes them seem more tailored and adds visual interest. Bazan stools by Christian Liaigre provide additional seating.
The multilevel coffee table is custom-made of metal and glass. The table is five feet square because the room is large enough to support such a substantial piece. "It's gigantic but it works in that room because it's a generous space," says Riker. "You want to create a sense of intimacy. I think those sectionals and [the] coffee table do that. Because they're so big, they take up space and create intimacy." A steel side table with an oval top sits between the twin chaises, while a matching table rests at the foot of the furniture arrangement.
The designers were overwhelmed with inquiries about this chaise design after posting pictures on the website Houzz, and it prompted them to produce and offer the chaise for sale. They named it the Sheila chaise, in honor of their client.
Before the remodel, heavy burgundy Roman shades hid the view. Now double layers of automated roller blinds provide privacy and sun protection.
Three Ways to a Welcoming Home
1. Choose approachable and comfortable furniture. Opt for furniture that you're comfortable sitting in. If you as the homeowner feel comfortable, your guests will too.
2. Select fabrics wisely. There are times and places to use silks and highly embroidered textiles, but they don't lend themselves to comfort or ease. Instead, choose materials that are easy to care for and clean. Guests will feel self-conscious if fabrics are too delicate.
3. Scale to fit the room size. This condo has sixteen-foot ceilings. Smaller furniture would be dwarfed in this space. Substantial sectionals and a generous coffee table make the room feel just right. All the pieces are to scale so the room doesn't feel cavernous and the furniture doesn't feel huge.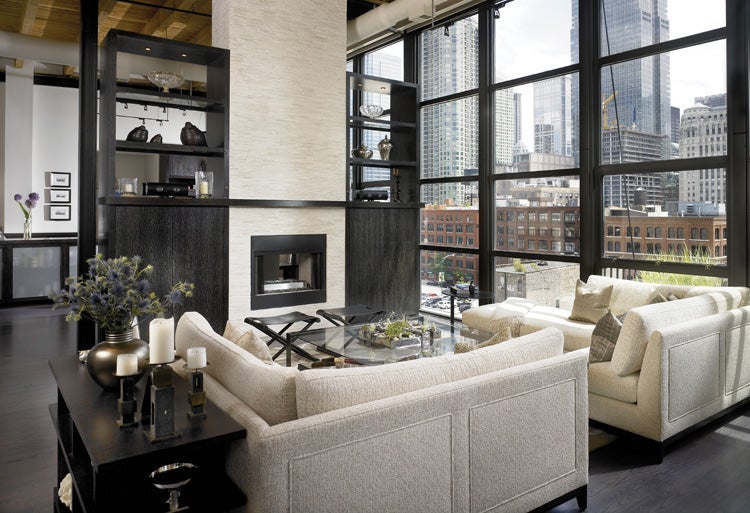 A custom wool-and-silk rug in beige and ivory tones delineates the main seating area. Behind the chaises, a bow front demilune chest sits beneath a window that looks out on the terrace. The chest is flanked by twin chairs with different yet complementary fabrics covering the seats and backs. That window is framed by simple drapes, but the windows that look out on the city are topped by automatic mesh roller shades in double layers. One layer provides light filtering when needed, and the second layer can function as a blackout shade. The shades provide privacy but also protect the interior finishes from sun damage.
The fireplace and shelving unit serve as a room divider. "I love how they turned out. I think the fireplace and shelves added a lot of drama to space and accomplished what we wanted them to, which was to divide the living room and dining room in a bold way while still connecting them. The open shelves above both spaces make that direct visual connection," says Riker. The see-through fireplace is framed by burnished steel. The fireplace wall is covered with a rock faced tile, which extends up to the unfinished fir ceiling. The tile adds texture to space but without distracting from the view.
Because this space must also serve as the TV room, one cabinet hides the TV when not in use. "We're always challenged when clients want a TV in the main living space. The cabinets worked well. We were challenged by how to lay out furniture in this room. We had to recognize that someone would ultimately be seated with their back to the view. Having multiple focal points in a room is always a challenge, but I think in this arrangement most people can enjoy the view, TV, and fireplace, even when they're all used at once," explains Riker.
The homeowners love the space, and they're not alone. On the home decorating site Houzz, users have saved pictures of this living room over 80,000 times. "I think people are reacting to the whole space," says Riker. "The design is calming, even with crazy views and huge windows. We wanted the room to feel cozy and friendly and warm and inviting. Those are the adjectives we tried to infuse in the end product."