Cultivating and Continuing Family Traditions
When Lu Ann Schnable Kaldor was just eleven years old, her father passed away. "It was in September, so by the time Christmas rolled around, nobody was really in the Christmas spirit because of the loss of my dad," the now a mom of two says. But from sadness grows hope. Such was the case with Kaldor and her family, who turned their sorrow into something positive by creating an angel tree: a small Christmas tree that the family would decorate with an ornament one at a time. Each ornament represented a random act of kindness—organizing local children to sing Christmas carols at a local nursing home or bringing food to a family in need—and once completed, the ornament would be adorned on the tree.
Today, Kaldor continues the tradition started decades ago with her own children. "We pick out a tree every Thanksgiving and throughout the entire holiday season my husband, two kids (ages eight and eleven), and I continue doing random acts of kindness like go to the local animal shelter and volunteer," says the Hudson Valley, New York—based author, who documented her family's tradition in the book The Angels on My Tree. "It took something that was very sad and turned it into a really amazing family tradition."
Family traditions—no matter how big or small—are the foundation of a strong familial relationship. "Family traditions create consistency and security within a family unit," explains Emily De La Torre, MS, LMFTA, a marriage and family therapist in Vancouver, Washington. "We love the expected, especially if it is tied to positive memories. These positive memories feed our familial relationships and keep us connected for the long haul. Memorable traditions can also add a positive light in which we view our families and in which our future generations will view theirs. Family traditions honor our past generations, our cultural values, our spiritual practices, and our overall family story."
But in spite of the obvious benefits of cultivating family traditions, it seems as though these same traditions that have bonded generations are now nearly extinct. There is no one reason to point the finger at, explains De La Torre. But one major explanation is simple: distance. "For many years, families lived near each other," she explains. "It was normal to see grandparents, cousins, aunts, and uncles living in the same central vicinity. With a closeness in vicinity comes more interactions. This consistency with extended family interactions created a continuum to engage in family traditions from previous generations; however, now we live separated from our families. Today, it is commonplace to live states away."
"Family traditions honor our past generations, our cultural values, and our overall family story."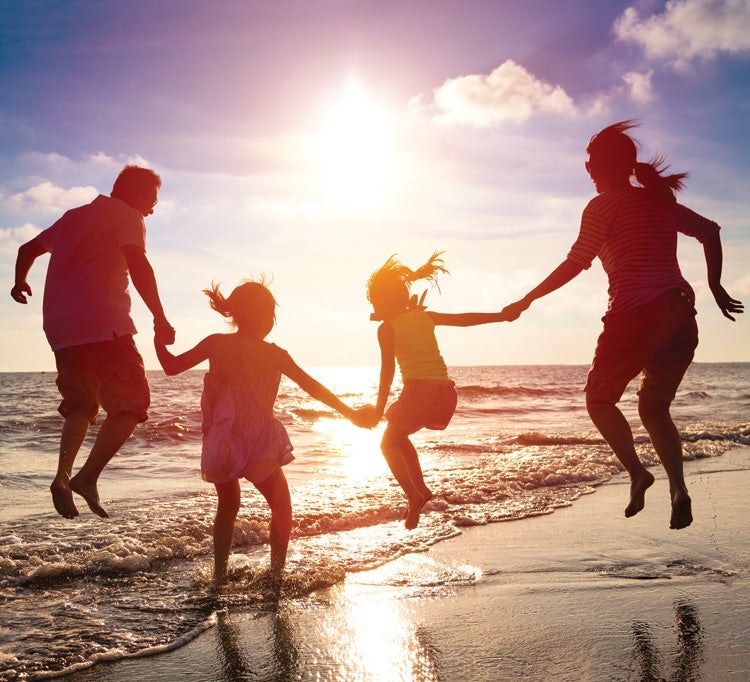 Get in the Spirit
Follow these suggestions to help brainstorm and establish new family traditions.
1. Spend a day looking back at the traditions you and your partner had growing up, suggests Emily De La Torre, MS, LMFTA, a marriage and family therapist in Vancouver, Washington. "Recall the memories associated with each tradition and decipher whether you want to bring these forward into your family unit now."
2. Establish a mix of new traditions, along with the old. "One way to create new traditions is to map out the important aspects of your family story now," says De La Torre. "You may think of cultural aspects, religious values, food and dishes, holiday experiences, and other miscellaneous concepts. Develop a list of a few traditions throughout the year that you would like to incorporate."
3. Get input from your family! "Ask your children [or] spouse what they would like to see turned into traditions moving forward," she says. "Does your child have a favorite meal that they want each year for their birthday? How about making last year's family camping trip a tradition each summer moving forward?"
But it's even more than location. "Though, even if we do not live far, we are busy and do not engage as much as we previously did," says De La Torre, who sees families constantly who are struggling with cultivating their own family traditions. "Families may now experience isolation from [other family members] and feel as if they need to forge a new path. For this reason, they are not as connected as they use to be to the continuum of family traditions."
De La Torre says all is not lost, though. "One thing I discuss with clients is that if we can slow down to look at past generations, we will learn so much," she says. "Awareness of the past patterns and themes can impact our future relationships, financial landscape, addictions, career paths, and so on. With this awareness, we can work to carry forward the positive and leave behind the negative for ourselves, our children, and even their children."
WRITTEN BY BLAKE MILLER