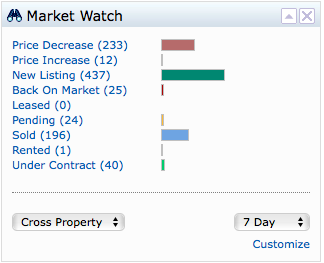 It was a pleasant surprise in December that the Holiday Season not only brought cheer and goodwill (and frigid temperatures that we are glad to see gone), but with it higher sales numbers than we have seen in the previous couple of years in the same month. While we did see an increase in sales, there was also an increase in the listing inventory which helped push our absorption rate up to 4.29 months keeping it slightly in the Buyers Market range. Even with this increase, the Benchmark price remained stable at $433,200, and average days on market had only a slight increase to 58 days.
Sales in most price ranges were up year over year for the month of December as well as for many of the different types of properties. Most notable was the apartment style condo sector which showed an increase of 15.75% of sales while only showing an increase in listings of 8.75%. This has helped drop the absorption rate which is another good sign for the struggling sector.  
The improved sales numbers seem to be the result of the resurgence in our inter-provincial migration improving, showing a net increase in population for the first time in the preceding 8 quarters. The improving economy, job creation and gradual momentum building in consumer confidence are just a few of the many positive signs for the New Year.
As always, it is wise to make a move as it makes sense for one's personal living circumstances and lifestyle. If there are fence sitters that are considering if it is the right time for them to make a move, it could be the perfect time. Discussing the pros and cons with a professional to become educated in order to make the best decision based on the current circumstances is critical.
Happy New Year, we look forward to a great 2018!!