Thoughtful Design Brings Harmony to This Beachfront Beauty
"Details distinguish a home from looking amateurish to looking like a professional did it," says Kelly Deck, director of Vancouver, British Columbia-based Kelly Deck Design and host of the HGTV series Take It Outside. With so much professional experience under her belt, Deck understands a thing or two about flawlessly executing details.
Her design skills captured the attention of the Vancouver General Hospital, UBC Hospital, and the GF Strong Rehabilitation Centre. Every year, these organizations work together to create a house—the grand prize for their fundraiser, Vancouver's Millionaire Designer Home Lottery. They asked Deck and her team to design and execute the interior of this spacious prize home located on Marine Drive in White Rock, British Columbia.
The goal of the lottery is to appeal to a wide audience to entice ticket purchases. Typically, the lottery home design follows traditional styles and tastes, but Deck wanted to go in a new direction. "We encouraged the foundation to look at something more modern. We introduced the idea of a contemporary home that felt a bit like a luxury hotel," says Deck. "They trusted us and took the risk." That risk paid off when the 116,000 lottery tickets available for the home sold quickly.
big and bold.
A home with a large footprint, such as this featured design, can be intimidating. Here, Kelly Deck shares her secrets to making the most of big spaces.
Go big. "When you have that much volume, you need to take up space. Making big moves actually makes your space feel more cohesive and whole," Deck explains. Large rooms can handle large pieces. Consider the eighteen-foot-long headboard in the master bedroom or fourteen-foot long island in the kitchen. Neither looks out of place because both are proportional to the dimensions of the rooms they are in.
Be bold. If you want your rooms to make a statement, choose materials that make you somewhat nervous. Designers shy away from marble because it can etch or stain. Deck says to look overseas to overcome that nervousness. "In Europe, marble floors and counters have been in buildings for centuries and they look spectacular," she says. "They're not in perfect condition, yet the forms and overall look is beautiful because those materials tell a story."
Even without textiles, the master bath celebrates texture through wood grain, marble veining, and matte (versus iridescent) tile.
It's All in the Details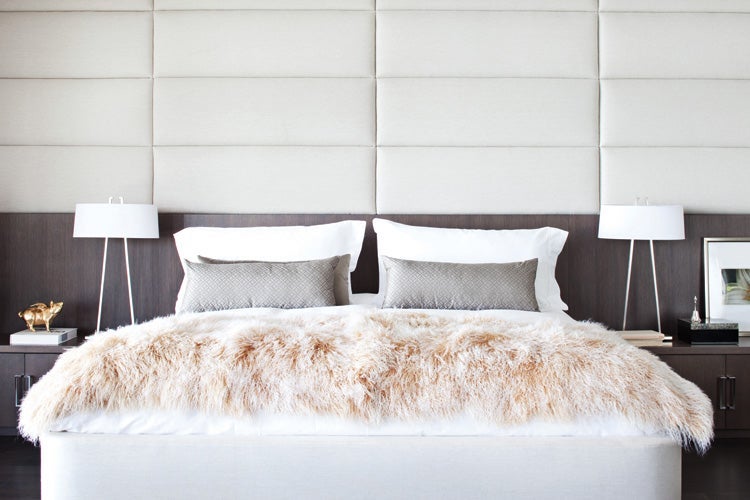 Deck first focused on the atmosphere and mood that she wanted to create. "My approach to modern is about using materials that are sensuous and have strong texture," she says. "I want people to want to touch them." Natural materials appeal to the sense of touch, as does the variety of textures. The home is filled with wood, marble, and natural textiles like cotton, linen, velvet, and wool.
Learning to balance varied textures takes practice and a reliance on gut instinct. "There's no prescriptive recipe. It's more of a feeling," says Deck. "You need to focus on framing, blocking, and sight lines." The master bath provides an excellent illustration. Each material is used with precision, training the viewer's eye where to look next. Dark stained quartersawn oak starts at the vanity cabinets and continues to wrap around the bathtub, drawing the eye to the beachfront view. Elongated marble slabs top the vanity and show up again in the shower seat and base footing. A wide swath of iridescent glass tile shimmers between the vanities and flows from the wall to the floor spanning the length of the room. A velvety ottoman sits beneath a sparkling chandelier that is reflected in both the mirrors and shower glass.
Even with varied materials and textures, the design feels harmonious. How does Deck create that harmony?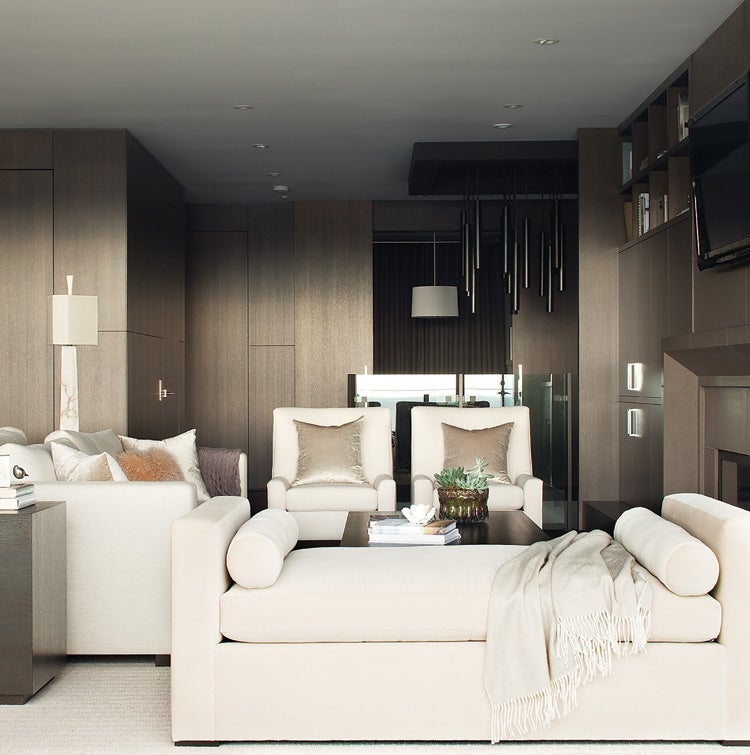 She compares the process to smart entertaining. "If you plan a dinner party, you're not going to invite twelve people with gigantic personalities. If you do, no one will get to say anything. When you design, you have to choose pieces that command attention and then support them with those that are quieter and more contemplative," she explains. "If you want one thing to stand out as special, then other things need to be quieter and command less attention."
Dramatic focal points command attention in each room, but it's the smaller details that make the home feel cozy. "With accessorizing, there's a fine balance between having just enough so that it looks collected, but not so much that it looks cluttered. Each vignette should tell a story," she says. Books, photos, and plants accessorize each room and provide the narrative. "Books are a very critical component of any styling. They instantly soften a space and give you a sense of feeling at home," Deck explains. For artwork, she relied on photos. "I like the subtle graphic quality of black-and-white photos. They capture a specific moment in time better than a painting does."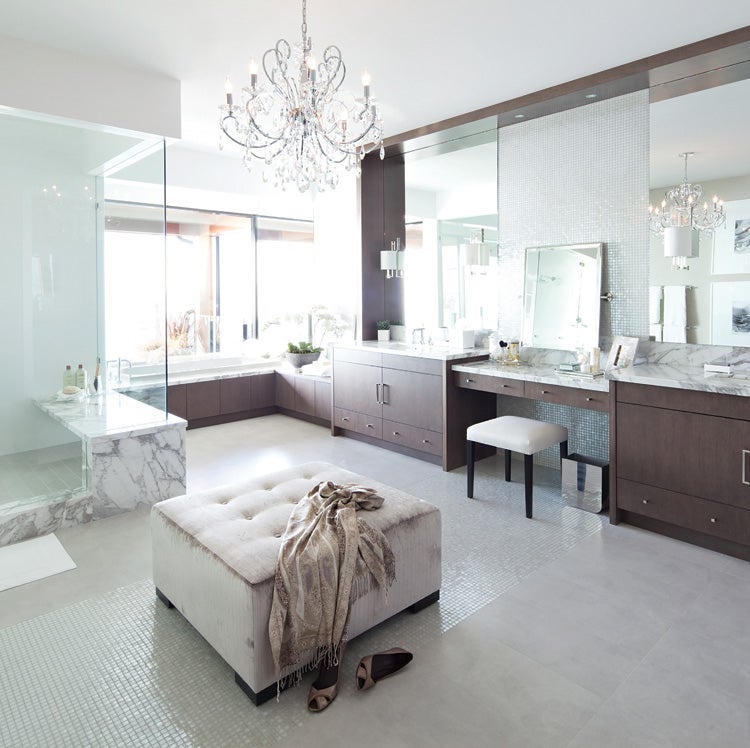 From a room-spanning headboard to how books are arranged on a nightstand, nothing is overlooked. "When you walk into a home and the whole thing just feels good; that's the magic of well-executed details."
WRITTEN BY RONDA SWANEY  PHOTOGRAPHY BY BARRY CALHOUN